By Dian Schaffhauser | 29 January, 2018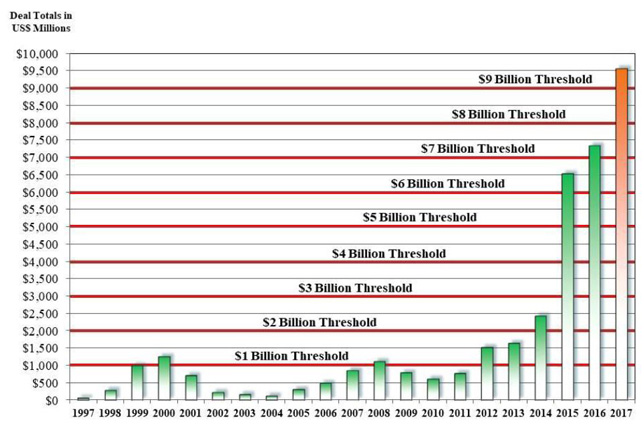 Annual totals for global private investment in learning technology supplies (in US$ millions). Source: "The 2017 Global Learning Technology Investment Patterns." Courtesy of 
Metaari Advanced Learning Technology Research
.
There's never been a better time for companies to seek funding for education technology. According to Metaari, 2017 turned out to generate the most investment dollars ever in the learning technology industry. It topped $9.5 billion globally, up from $7.3 billion in 2016, which was itself 46 percent higher than the $6.5 billion in investments made in 2015. The latest year's funding went to 813 ed tech companies, the highest ever recorded, according to the learning market research company.
Of course, learning technology has become a business that goes way outside the lines of formal education. According to Chief Researcher Sam Adkins, just 13 percent of the global investment went to pre-K–12 companies, representing about $1.2 billion, up about $200 million from the previous year; another 7 percent ($682 million) went to companies focused on higher education. The remainder went into "consumer-facing" and "corporate-facing" companies.
Big areas of interest for investors last year were next-generation learning companies, particularly companies developing products based on artificial intelligence (AI) and mixed reality (both augmented reality and virtual reality), as well as those creating educational robots for children. In AI alone, 124 companies attracted $1.7 billion, most working on corporate applications.
"The industry is in a period of profound innovation and transformation," noted Adkins, in a press statement.
Geographically, while the United States accounted for the largest share of investments (58 percent), according to Metaari, other parts of the world are major draws as well.
Companies in China, for example, generated $1.77 billion; however, that's down from $2.1 billion in 2016. The largest 2017 investment in China was generated by VIPKID, a popular consumer-facing online tutoring company that teaches Chinese students English using North American teachers, which raised $200 million in August 2017, on top of $100 million raised in 2016. Gaosi Education, a pre-K–12 company that offers after-class tutoring, generated $199 million in three stages during 2017.
Ed tech companies in Africa have also begun getting funding, especially in startup hubs in South Africa, Kenya and Nigeria. In total, 17 learning tech companies in Africa drew investments, which is the highest total number of deals made there so far.
The full report is openly available on the Metaari site.